So as mentioned in my last thread, a friend of mine gave me a non-working Xevious cabinet. While I managed to make it work again, this rekindled the love of old arcade games for me. So I did a bit of research and found a fair bit of info about building a MAME (Multiple Arcade Machine Emulator) cabinet, by using an old PC, a monitor and some wood.
The easy way is to simply buy a premade MAME cabinet, like the ones sold by
Xtension Arcade Cabinet
. $399 for a cabinet seems affordable enough, right? Well, I'm in Canada, so that $399 price tag is actually $508CAD Thanks to our crappy economy. Add to that $143USD ($182CAD) for cross-border shipping and all of a sudden that affordable cabinet just became a $690 nightmare. So I decided that I would by 3/4" MDF boards at the local hardware store and reverse-engineer a cab by somehow finding the building plans of the cab.
But what about joysticks, buttons and all that? Well, I could either scratchbuild a control pannel to house the buttons and joysticks, but that proved challenging, so I opted for something simpler - the [url="http://shop.xgaming.com/products/x-arcade-tankstick-trackball-usb-included"]X-Arcade Tankstick[/url], an all-in-one control panel that can be used on virtually any platform. DIY'ers use this, as it's simple to build a cabinet around it. The aforementioned Xtension cabinet is designed for the Tankstick.
Anyway, so far in the project, I've got:
The Tankstick:
A fully functional coin mechanism for that authentic look: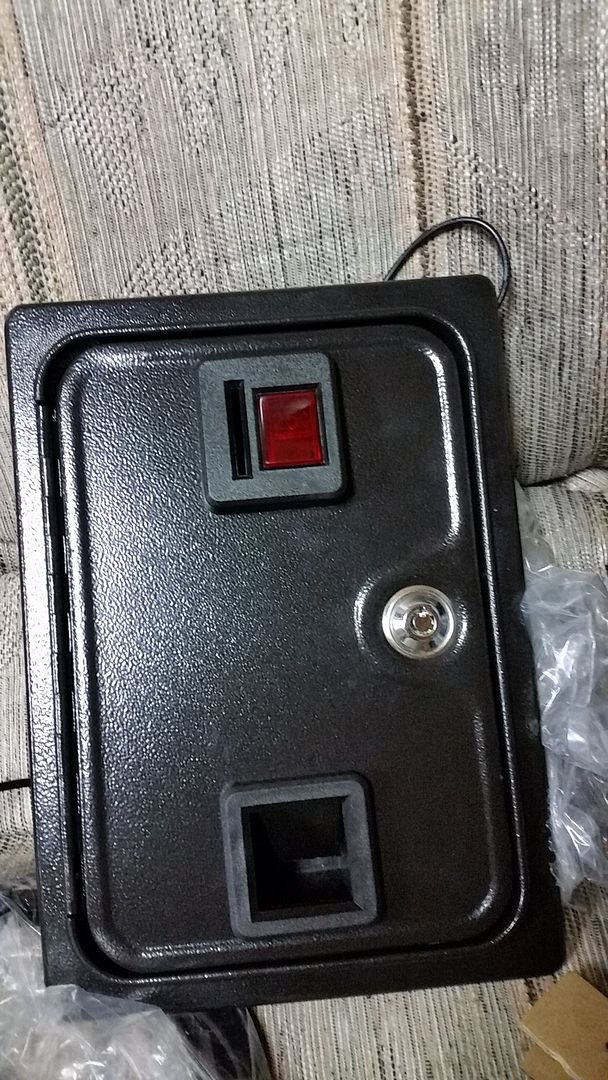 A Dual core PC with 8GB RAM, a 1TB HDD and a barebones Windows 7 that will be used to install MAME and an arcade frontend like Hyperspin: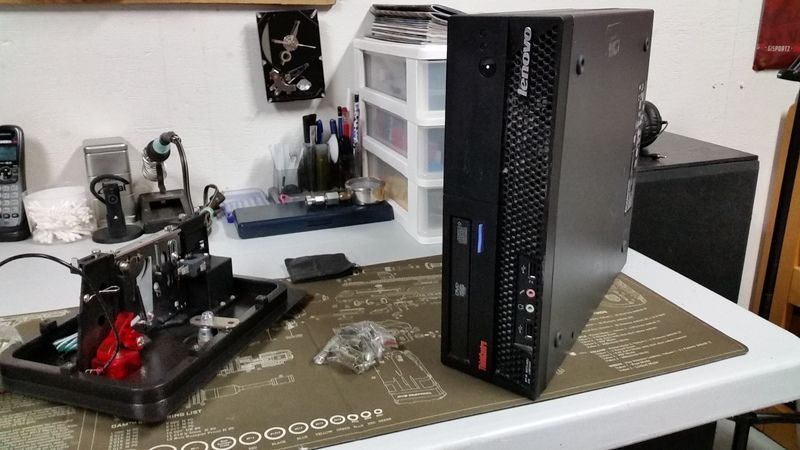 I also have a 22 inch LED monitor for the project. A CRT monitor would have been awesome, but they are pricey and increasingly hard to find.
Getting all of the software setup is proving to be challenging. It's not that it's hard, but it's time-consuming. See, you have 3 major components. The emulators, the frontend interface and the software that communicates between the emulators and the frontend.
Emulator-wise, you need at the very least MAME for the arcade games. You can later add more emulators if you plan on playing NES/SNES/N64/Sega, etc games.
Frontend-wise, I am using Hyperspin: hyperspin-fe.com
Visually, it's the nicest arcade frontend available, but it's also the most complexe one to configure. But if you've got several hours to spare, check out Simply Austin's Youtube channel. You will find a MAME/Hyperspin installation video.
https://www.youtube.com/channel/UCb4RFF ... 77onViqoDA
Anyway, a lot of that was reading/following tutorials, trying various versions and packages and posting noob questions on message boards. Long story short, the software aspect is about 75%-80% done, with the MAME component 100% up and running. The coin mechanism works great, but I have to order a [url="http://na.suzohapp.com/all_catalogs/coin_doors/42-3054-00"]Canadian coin mechanism[/url], as the one that came stock with the coin door only works with American quarters. I've managed to find a handful of American 25¢ for the time being, but I eventually want to plug Canadian coins in there.
While the cabinet is far from being built, I've ordered vinyl artwork for the side panels, control panel and marquee, in a Nintendo vs. Sega theme:
While these decals are designed to go on the Xtension prefab arcade cabinets, I plan on using the decals as a template of sorts to reverse engineer a cab by buying 4x8 MDF boards and cutting them with a jigsaw and router.