Updated tutorial on how to get to the NESkimos chat, #NESkimos!
This chat is hosted on IRC. For those of you who know what they are doing with IRC, here is the information you need straight up:
Network: ircn00bstories ( irc.n00bstories.com )
Channel: #NESkimos
Ok, the rest of this is for those who don't have a clue what IRC is or have barely used it. This is a tutorial with pictures to help you along the way. Please follow each step carefully; most of the problems that we have are people messing up. However, please feel free to contact me via AIM/MSN or PM me on the forums if you get stuck ask here if you would like too.
So, what is IRC? IRC stands for internet relay chat. Basically a way for a bunch of computers to join a chat. Tons of games we play use IRC to allow the players to chat. It can also be used for file transfers and other neat stuff, but that is not the goal here. We just want to get you to our chat for now.
First you will need a IRC client. This is software that will let you join an IRC server and chat on it. The most popular one for windows is
mIRC
. Download it and install. Now open it and you should get a little box saying you can use this for x amount of time before you should pay. You will never have to pay, it will just delay the software start up by 30 seconds.
Once you get past this screen, a window look like such should pop up:
You can enter anything for your full name and email address, but you nickname should be the screen name you prefer. The name you chat with in other words. Choose an alternate in case your name is taken. I suggest unchecking invisible mode. How hit what is circled in this next pic
A screen as such will appear. Again, hit what is circled.
This will bring up the next window. Enter all the information you see in the following pic and hit "add":
Now you should have the following screen
Make sure what is circled in red is selected and then hit the button in green. The following should pop up: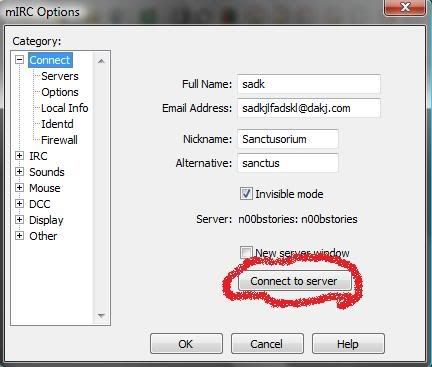 Hit the button circled in red. Now finally a screen like this sould pop up:
See all the names with a # next to them? These are all channels, aka chat rooms. Although, none of these exist on the server we are on. So uncheck the box circled in red and hit the close window button. I circled it in green in case anyone doesn't know where it is ;D
Once you did that, you should get a giant box with a bunch of what looks like random messages in it... If you connected at least. There is a place to type in that window. Type this exactly:
/join #NESkimos
Congratulations. You should be in the chat room. :3 If you can, please idle. Thats how the channel grows. The more the merrier!
If you DID NOT connect, let it do it a few more times. If it still doesn't work, try typing "/server" into the whit box that displays a bunch of text. If that doesn't work you may have one or a few problems. Firewall automatically comes to mind (although I doubt it). If so, check
http://www.portforward.com/
Really good site that will help you go through your port forwarding nightmares. Another problem: server down, or your internet is down :O Feel free to contact me if you need any help
Notes:
The the following command to register your nick with the server:
/nickserv register passwordhere emailhere
To log in each time you connect, type:
/nickserv identify passwordhere
Use this command to join a different channel (chat):
/join #channelnamehere
See all the people with @ next to their name? Yeah, that means operator. They can kick, ban, mute, etc the channel. Act like an idiot and be punished.
irc://irc.n00bstories.com/neskimos
That will let you bypass the connection crap (just click it once mIRC is installed), I still suggest going through the connections a few times so you can get the handle of IRC though. (Thanks Gimp)
Cid_Highwind wrote:
Since people obviously have NO clue about anything IRC related.
Here's how to get rid of "clones" without having to wait for them to ping, or reset.
Code:
Syntax: /nickserv ghost nickname [password]

(NOTE: The ['s are not needed)

Terminates a "ghost" IRC session using your nick. A "ghost" session is one which is not actually connected, but which the IRC server believes is still online for one reason or another. Typically, this happens if your computer crashes or your Internet or modem connection goes down while you're on IRC.

In order to use the ghost command for a nick, your current address as shown in /WHOIS must be on that nick's access list, you must be identified and in the group of that nick, or you must supply the correct password for the nickname.
I'll add more notes as people offer them.