Last Minute Essay
By Nameless-Motherfuckin'-Eight-to-the-Eizzight!!1 (I'm
so
God damn white
*sigh*)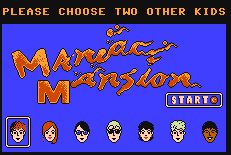 They say a picture is worth a thousand words; but seeing as how I am probably not gonna be able to bullshit a 1000 word essay out of posting a picture of what game I want covered, I should play it safe and explain why Maniac Mansion personally kicks the shit out of all the other games that have been submitted thus far. And believe me, that won't be a problem at all.
Now, before I start, let me just say that there is nothing wrong with any other ideas submitted so far. I think that anything done from a Listener's request would end up fantastic, because it gives songs that aren't from very well know games to have a chance, it allows for new ideas to be suggested and considered, and it is also very cool to be able to ask a band to do a song for you and then BAM! They do it! But I am very confident in myself when I say that even if you've never played Maniac Mansion, or even
heard
of it until now; the music would
still
rock your face as much as - or, dare I say, possibly
more
than - a ninja pirate would enjoy rocking Belmont's ass with his peg leg.
The main theme music of the game is the subject at hand. Although I sadly cannot find any good Midi files of it to share with those of you who have never heard it, please just take my word for it that it is a great fucking song. Hell, even in the primitive Bleep-Bloop-Bleep music straight from the game, I would be the first guy on the dance floor if it ever started playing at a club, school dance, wedding, funeral, etc, and I would dance like an asshole to every second of it, because it is a great of a song, and I'm just fucked up like that.
Straying off the subject of its music for a second, though, here is an interesting concept about the game: It was originally a PC game. Wily was talking about maybe doing some PC games' music. Well, if you just wanted to ease your way into it, Doc, then Maniac Mansion is an ideal start. It is pretty much a PC game, but it was made for Nintendo after awhile, so there is a loophole in it if the Neskimos didn't want to stray too far from their NES roots. Besides, no one else has
ever
covered this game, so Neskimos could really be some VG Cover Band Pioneers here by doing something from this game. Neskimos: boldly going where no cover band has gone before! Exploring the Final Frontier of video game cover music! Besides, I know that at least 5 other people on the boards (back when there were less than 200 people on the boards, probably more now) agree with me that this is a awesome game, and as much of a classic as Mario or Zelda or Megaman, but it is an unsung classic of the NES. It's got great music, it's probably the only NES game where there are alternate endings (I think 4 or so in all), and it's just an overall nut bustingly outstanding game.
But that is enough talk about that, back to the matter at hand. As much as I want the Main Theme to be covered, I would be personally happy with
any
song from this game. I personally like Weird Ed's theme, most of the kid's themes (Dave, Michael and Bernard, are my personal favorites), and of course the main theme. The part about this game that I love the most music wise is that each of the characters has their very own CD player, each with a different style of music in it. Michael has a funk sounding one, Razor had a rock song, and Dave…well, I'm not sure what the hell his style was, but it was still pretty damn good anyways!
My personal suggestion - if the Neskimos choose this essay – is to make a medley of all these songs. Start it off with the Main Theme, and once that is done, go into Dave's theme, switch between Dave's, Michael's, Razor's, Syd's or whoever the fuck's theme you like the best; (I would personally love to hear them all fit into there somehow, if that's possible) and then end it with Weird Ed's theme (the song played during cut scenes). If
one
song from the game is good, imagine what three or four or five of them mixed together perfectly in a medley would sound like! These songs have some great transitional qualities; and by that I mean that they can easily switch from one to the next and still sound good in a medley next to each other, this is mostly because you constantly have to switch between the kids in the game. Even though they sound nothing alike, they would still go great next to each other because of their powerful contrast with each other's style and sound. Switching the song from Michael's funk/porn groove to Syd's surfer rock to Wendy's bizarre sophisticated music to Bernard's nerdtastic yet strangely satisfying music all seem to blend so naturally together.
But don't take
my
my word for it, just read these inane quotes from various sources that I made up so I would look like I know what I'm talking about!
"OMG! 7h1s g4m3 r0XX0rz my s0XX0rz! l0l!!1" - The 1337speak Times
"Holy crap, if Neskimos don't cover the music from Maniac Mansion I will eat my own face!" – Babbling homeless man in Time Square
"010001000110111100100000011010010111010000100000011011110111
0010001000000100100100100111011011000110110000100000011001010
1100001011101000010000001111001011011110111010101110010001000
0001100011011010000110100101101100011001000111001001100101011
0111000100001" Binary Bimonthly Magazine
"If Maniac Mansion was ever made into a pharmaceutical drug, it would have to have a thing on the box that says like: '
WARNING!
Side effects may include dizziness, rectal bleeding, and advanced cases of Rocked Off Face Syndrome. Consult a doctor if you are pregnant or have any history of heart disease,' Cuz that's just how much it rocks and, uh, yea." Dr. Mario, Interview with Vh1, 1997
The people have spoken, Neskimos. These songs have some serious potential to be rocked the fuck out, and if anyone says differently, then they are a liar and need a swift kick to the sphincter with a steel toe boot.
*edit* As an after thought, I'm also adding a link to the rom of Maniac Mansion, it's the only way to actually experience the music with it's full flavor, you can just sit at the opening screen to hear most of it, if u want, but you'll need to play for about 5 minutes to hear Weird Ed's Theme, Enjoy, Bitches! :\m/ and keep the rock alive!
Maniac Mansion Rom