Looks like Dr Pepper is holding up
their end of the bargain.
Ultimate-Guitar wrote:
"Don't cry, Guns N' Roses fans. The agonizing wait for the 17 years-in-the-making masterpiece Chinese Democracy will finally be over (fingers crossed) on Nov. 23, 2008. Sure, there have been more rumored release dates than the 23 flavors of Dr Pepper, but if Chinese Democracy hits stores as announced today, it's going to be so easy, easy for every American to get a free Dr Pepper as promised.

How To Get Your Free Dr Pepper:

1. On the Nov. 23, 2008 release date, go to Drpepper.com
2. Register your information to receive a coupon for one free 20-oz. Dr Pepper.
3. When your coupon arrives, redeem it wherever Dr Pepper is sold.
4. Drink your Dr Pepper slowly to experience all 23 flavors. Dr's orders.
I think this is officially the greatest marketing campaign of all time, if not for anything else then for the fact that Slash and Buckethead are not allowed a free can of Dr Pepper.
_________________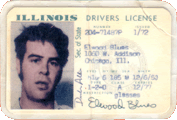 I'm sciencing as fast as I can!